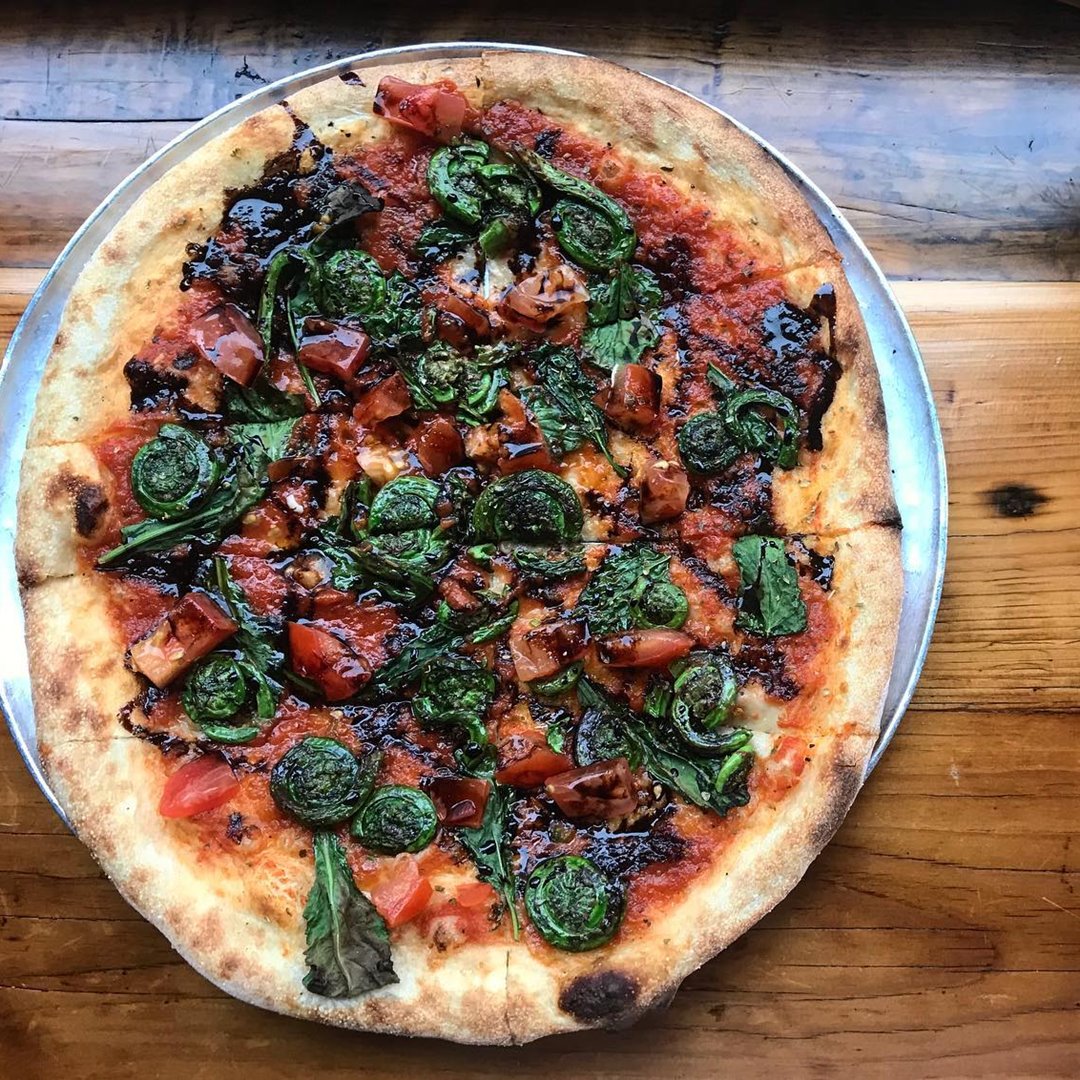 Article by Alisa Fleming on Godairyfree.org
They opened their first doors just over twenty years ago, but the folks at Flatbread Company trace their roots to a much earlier time. They've sourced the origins of baking as inspiration for their primitive clay and stone ovens.
Each of their flatbreads is hand-prepared with natural, organic, and free-range ingredients, and wood-fired for what they say is incredible tasting pizza. And dairy-free customers seem to agree. Melissa K. emailed in to recommend this small restaurant chain:
The pizza is amazing! We love the thin, crispy crust. My go-to pizza is the Homemade Sausage. It has homemade maple fennel sausage, sun-dried tomatoes, caramelized onions, and mushrooms with garlic and herb oil instead of red sauce. My husband changes it up and always does the build-your-own. The ingredients are locally sourced and organic, which is always a plus in my eyes.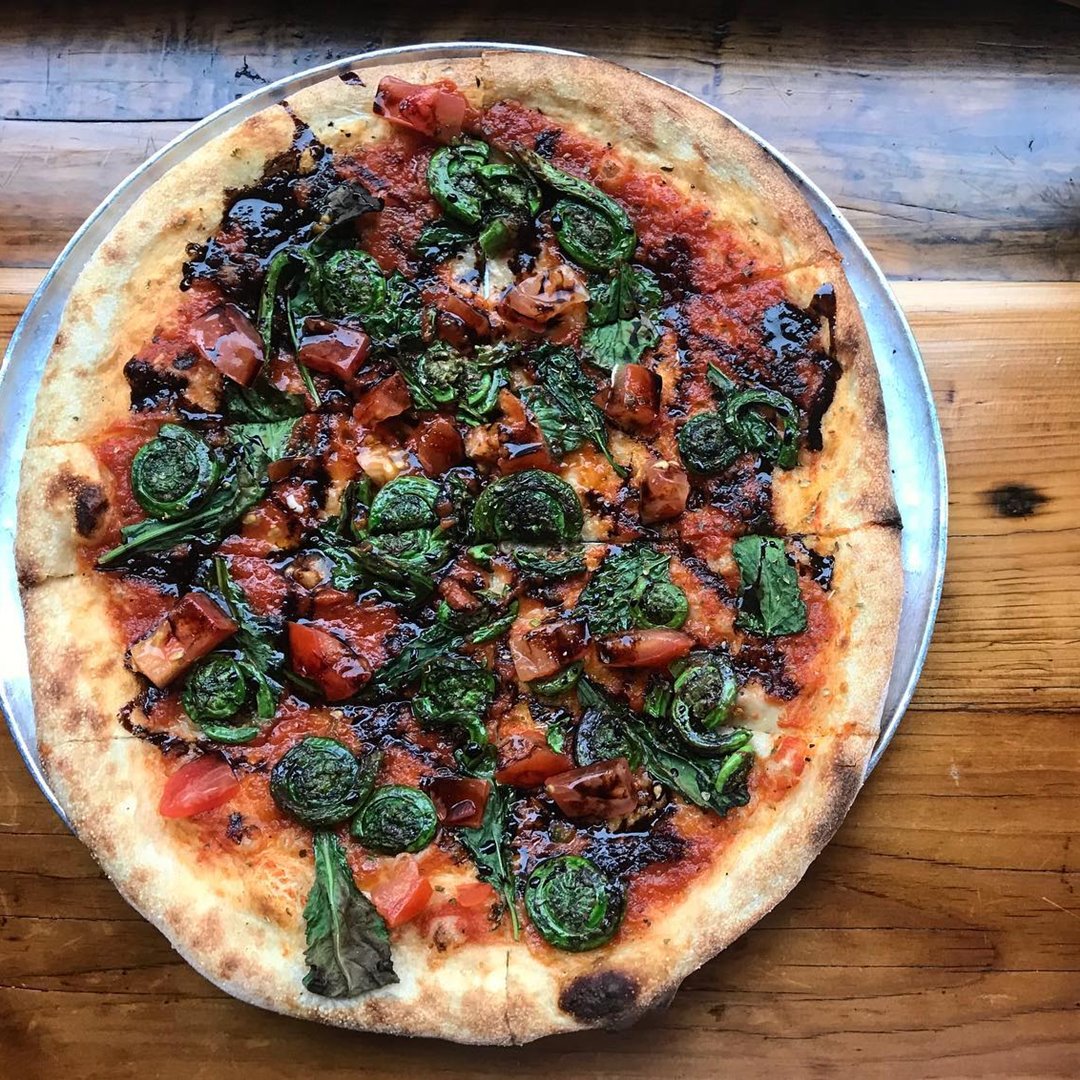 As Melissa has discovered, Flatbread Company is special diet friendly with several dairy-free options:
Flatbread Co. in Portsmouth, NH has dairy free pizza. They currently use Daiya but when I was there last week with my husband they were trialing another brand called Good Planet (which my husband said tastes way better than Daiya).
We contacted the Portsmouth location to find out more, and one of the managing partners, Kristie Edmunds, shared the following:
All of our crusts are dairy free. All of our sauces are dairy free EXCEPT for buffalo sauce, crema, blue cheese dressing and chocolate sauce. And all of our meats are dairy free, but our pepperoni has starter cultures [this can be dairy derived].
She warned us that each Flatbread Company sources some of their ingredients from local farms, so there can be variations in the menu items and special diet selections. And of course, you will need to discuss food preparation with the staff if potential cross-contamination is a concern. Each restaurant is managed individually, and might have their own allergen procedures. But in general, you can easily order dairy-free right off their menu.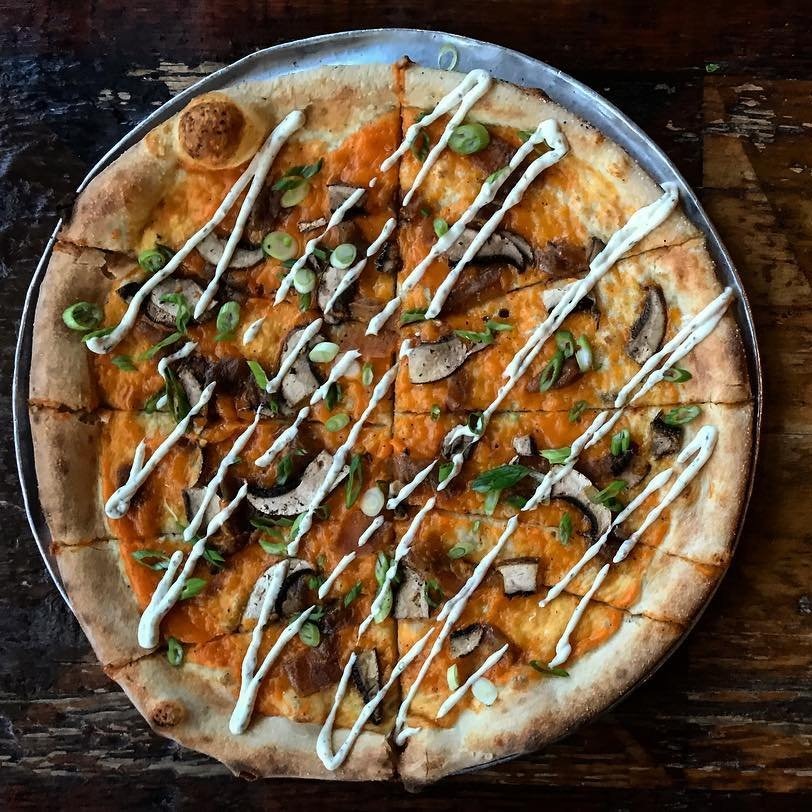 Tips for Ordering Dairy-Free or Vegan at Flatbread Company
All (or almost all) locations have cheeseless vegan pizza on the menu with build-your-own vegan or dairy-free pizza options.
Select locations offer "vegan cheese" as an add on, but what type they source can vary by location.
Most of their restaurants have gluten-free pizza crust available, which is also vegan.
Their regular house dough and many of their toppings are organic and dairy-free.
They have a big, unique selection of plant-based toppings, that can include Kalamata olives, sulfate-free sun-dried tomatoes, roasted corn, caramelized onions, sweet potatoes, chickpeas, and more.
They also source local, free-range, and un-cured meats to avoid added growth hormones and other chemicals.
If you aren't in a pizza mood, you can order a build-your-own organic salad. You choose the toppings and it's doused in their house vinaigrette, which is reportedly dairy-free.
Some locations serve a set menu of desserts, but others source desserts locally and change them up. These are occasionally dairy-free, gluten-free, and/or vegan. Check with the staff!
Melissa also gave a shout out to the drinks at Flatbread Company:
Their cocktails are delish, try any of them! And they carry Downeast Cider which I'm a big fan of but don't often see at restaurants. They have a good selection of craft beers that my husband enjoys as well. For non-alcoholic drinks, I love the Maine blueberry soda and home-brewed root beer.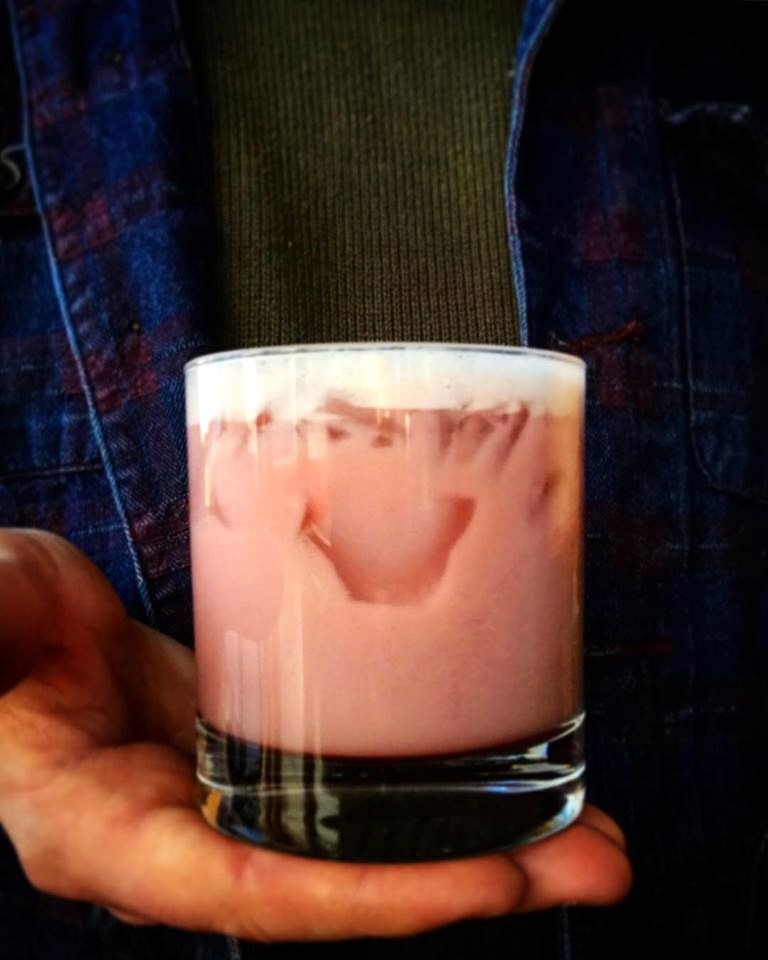 Where to Find Flatbread Company
They have quite a few locations in New England, including Maine, Massachusetts, Rhode Island, Connecticut, and New Hampshire. But they also have an outposts in a few popular vacation spots, like Maui and Whistler, BC. See their website below for addresses, hours, and the menu for each restaurant.
Website: www.flatbreadcompany.com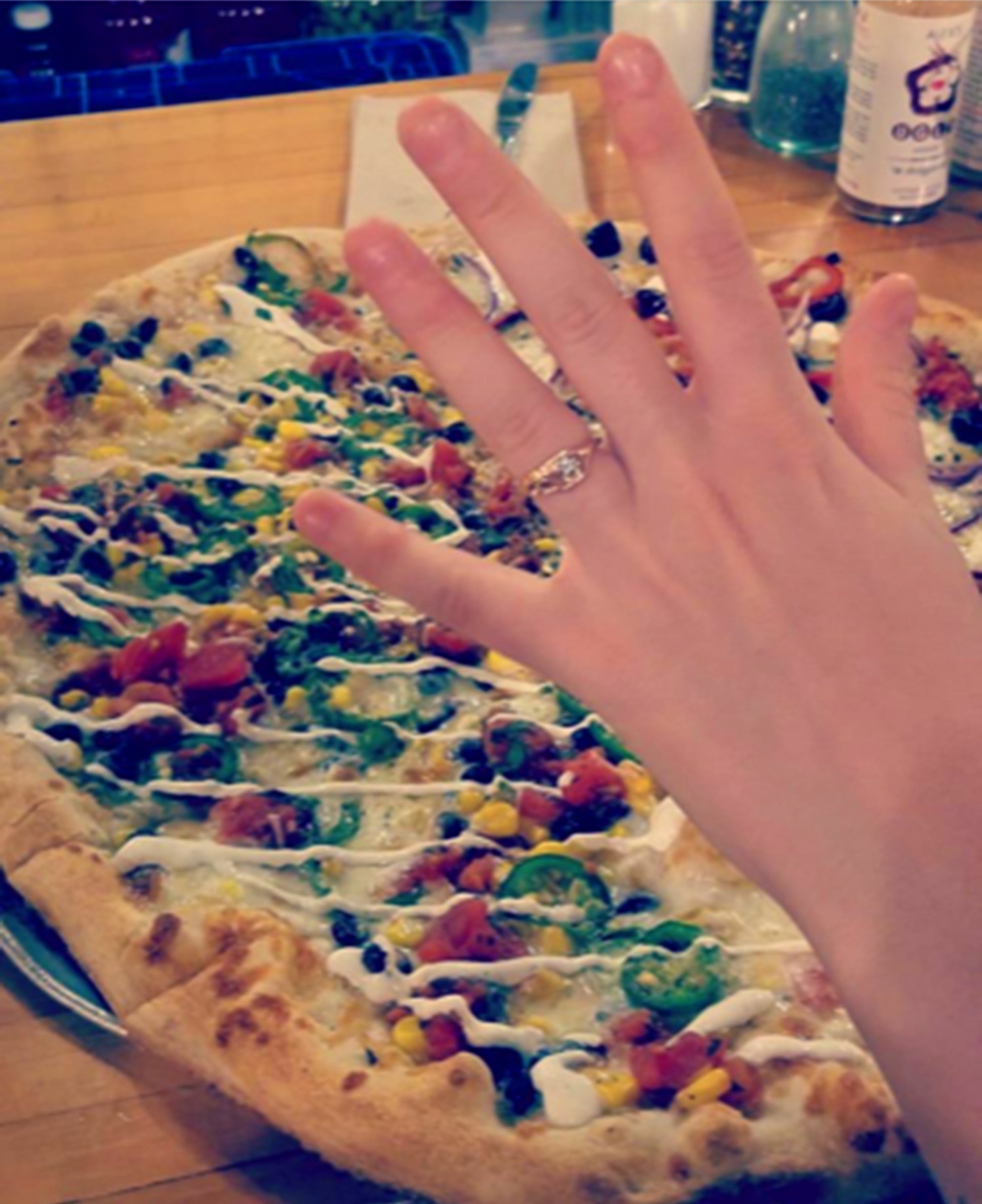 Dear Flatbread,
Sometime in June, 2016. My partner attempts to convince me to move to Somerville after I graduate college. He takes me to Flatbread and says "look, Boston *does* have good food!". (It was very convincing. I agreed.)
January – July, 2017. Flatbread becomes our primary restaurant of choice. We go there every weekend. We meet people there who will become our very good friends.
August 2017 – August 2018. We move south of Boston to save on rent. Turns out we love Flatbread so much that we literally drive 45 minutes once a week to visit the Somerville location. Worth it every time.
October 12, 2018. I've started graduate school. My beautiful partner proposes to me. Where do we go to celebrate? FLATBREAD. Somerville. Of course.
November, 2018. My final reviews. I need a title for my project. Stressed, I look at your menu, and at our favorite pizza. Hmm, Punctuated Equilibrium….I do a bit of googling and find that not only does the term in biology perfectly suit my project, but THE COLORS I used in my final prints even LOOK LIKE THE PIZZA. I start screaming with joy and later reference Flatbread in my project credits.
Present day. I'm so busy that I literally don't have time to sleep or vacuum. Spring break arrives. Where do we go…admittedly three times in a row…? FLATBREAD.
This is all to say that I/we love your pizza so very, very much. And if I was involved in running a restaurant as delicious as Flatbread, I would want to know when customers fall in love with (and next to) my food. So – thank you. You have literally been the culinary highlight of my last few years.
With gratitude,
Alana & Alex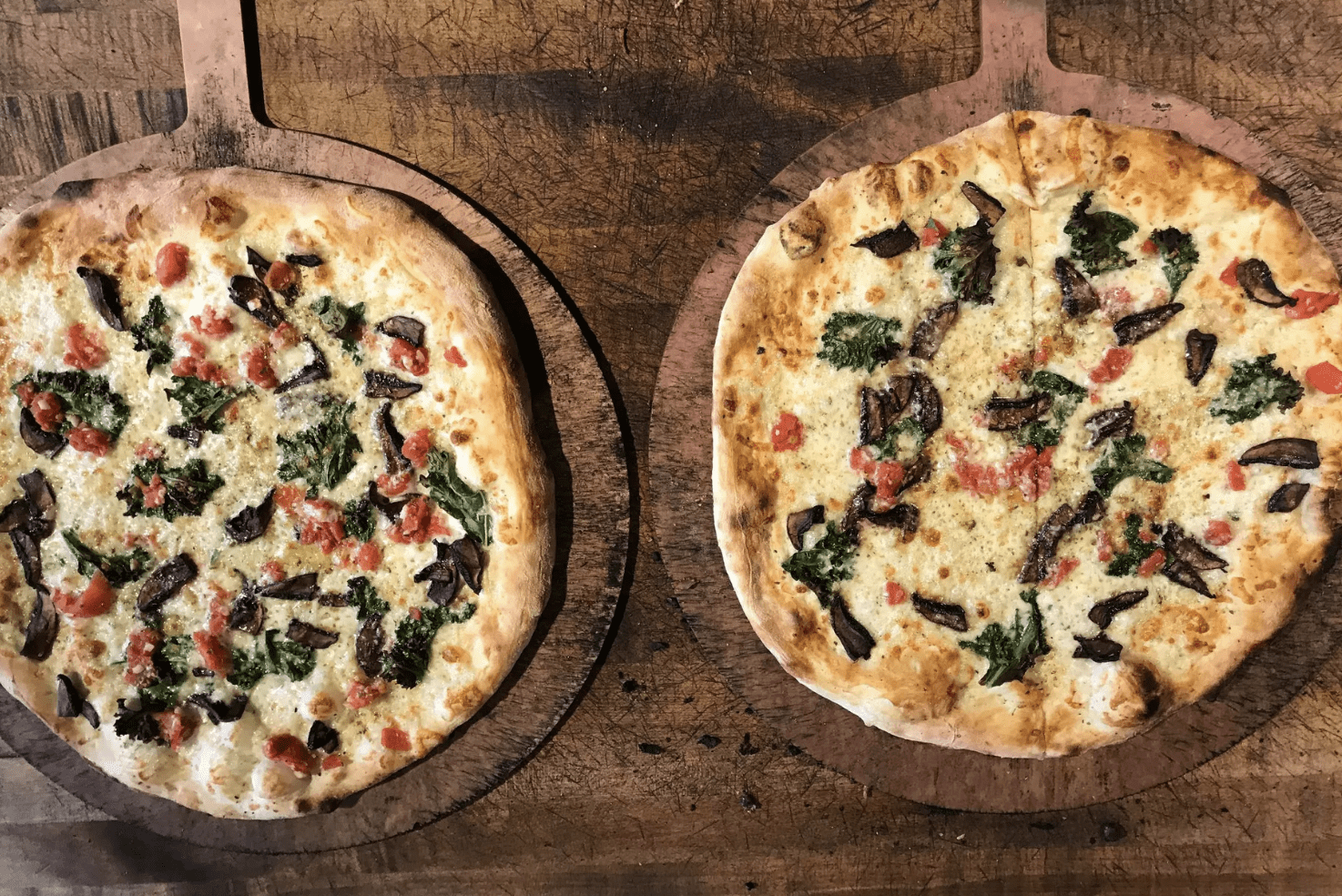 A New Hampshire-based pizzeria that boasts a menu of mostly organic and locally sourced fare is headed to Lowest Greenville for its first Texas location.
Flatbread Company operates a handful of locations from Connecticut to Maine, as well as in Canada and Hawaii. It will debut locally at 1720 Greenville Avenue from two brothers and a partner in the Hawaiian franchise. The building that will house Flatbread Co is owned by the brothers' family and will get a complete revamp before the eatery moves in, featuring two clay wood-fired ovens and seating for 150 diners with an outdoor patio.
A menu of wood-fired pizzas and salads are headed to Dallas with both meaty and vegan varieties alongside a handful of sauce-less pies. Diners will find pizzas made with organic wheat and veggies and hormone-free meats like uncured pepperoni, maple fennel sausage, pulled pork, or roasted free-range chicken.
The "Greenville Community Flatbread" is a special addition geared for the DFW dining crowd, featuring onions, mushrooms, whole milk mozzarella, and parmesan cheese with homemade garlic oil and blend of herbs on top. Salads include a base of organic greens topped with Maine sea kelp that can be customized with diners' choice of veggies, cheese, and meat. Ice cream sandwiches, sundaes, and floats will be on offer for dessert.
"We were blown away by the pizza each time we had it [in Maui], and my kids don't want to eat anything else when we visit," said David Leake, one of the brothers behind the local franchise. "[With the] all-natural, locally sourced fresh ingredients, we felt good about giving in to them each time they chanted for pizza."
Flatbread Company will make its local debut at the end of May or beginning of June. Stay tuned for its official opening date.
Article and Images via Dallas Eater