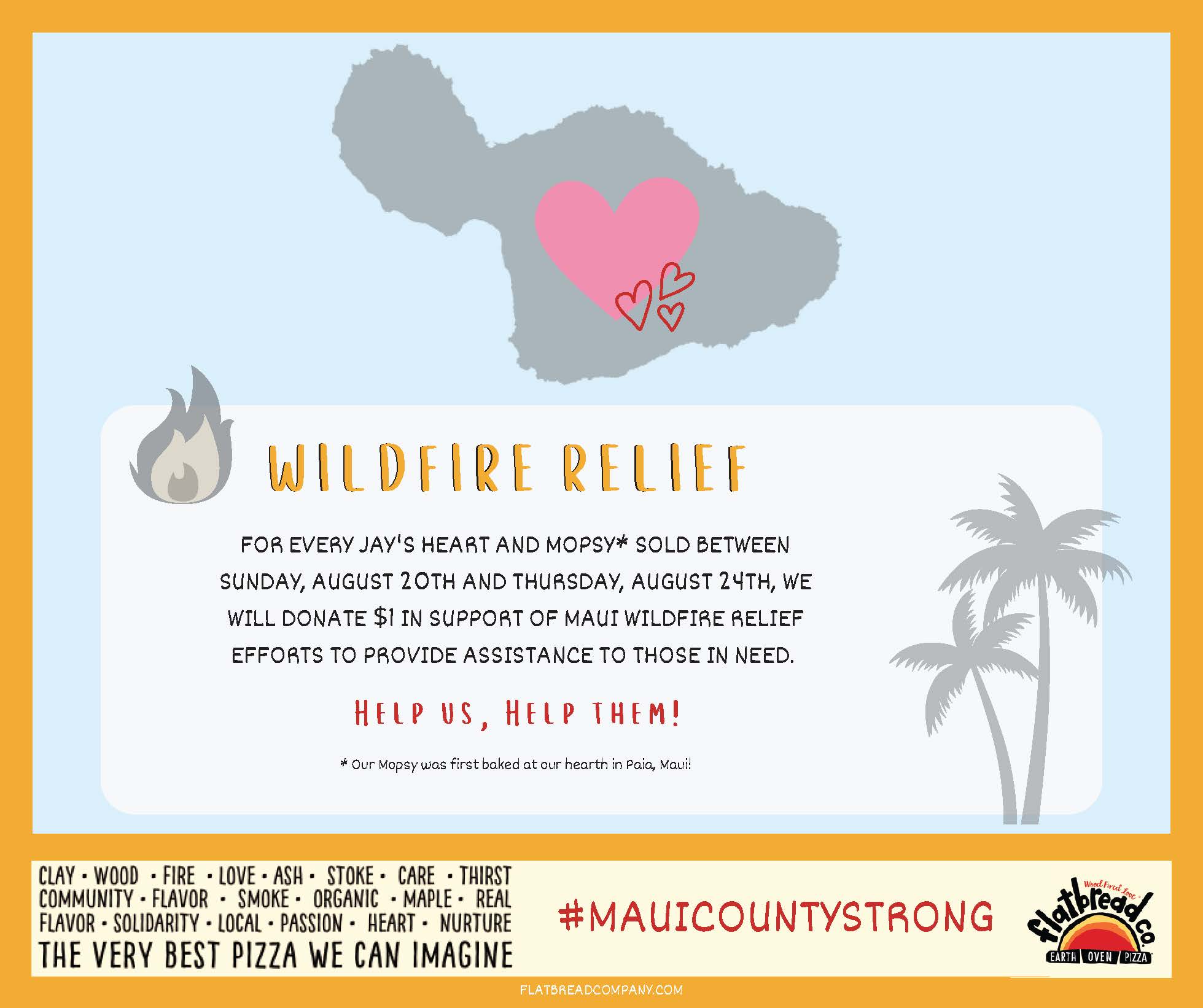 Hampton, NH – Flatbread Company organizes benefits to assist in providing relief after the devastating wildfires earlier this month. Flatbread Company, Paia-Maui, has been baking up mostly organic, all-natural pizza in hand built woodfired ovens since 2006.
"Our hearts are filled with grief for the communities of Maui effected by the historic wildfires that have ravaged a number of towns on the island" stated founder Jay Gould. As an avid surfer, Gould has a personal connection with the island going back decades. It was during surfing trips to the island that he met local Maui business partner Josh Stone who pitched the idea of opening a Flatbread Company location in Paia. Within hours of the news breaking about the fires Flatbread Company managers and team members were reaching out asking what the company could do to offer much needed support. "The Maui County community has been very supportive of us since day one. Not only our team in Maui but our teams company wide wanted to make sure that we immediately started efforts to help those in need" stated Gould.
"We are blessed that all of our team members met with no harm but unfortunately we do have a team member who lost numerous extended family members" stated Paia General Manager Nick Rodriguez as most team members live near the north coast where the restaurant is located. Rodriguez continued adding "While our team has been emotionally devastated from the disaster, they immediately rose to the challenge of finding ways to help our community start the healing process." Beginning the very first day after the fires when the community finally knew the extent of the damage Team Paia started dropping of as many as 50 pizzas a day at food pantries and shelters for both those that were displaced as well as volunteers and first responders. These efforts were just the beginning, in addition to daily pizza drop-offs the restaurant has also been inviting effected families in for dinner with the hopes that they can help renew their spirits and bring a smile to their faces, even if just for a moment. "We will continue to be present for the community of Maui for as long as there is need. Starting on Monday August 21st, and continuing weekly, we will be hosting a #MauiCountyStrong Community Bake where a portion of the evening's proceeds will be donated to different relief charities of our team's choosing" Rodriguez further commented.
While the team members of Paia sprung into action, their fellow coworkers throughout New England launched a fundraising campaign as well. From Sunday August 20th through Thursday August 24th $1 from every Jay's Heart and Mopsy pizza will be donated to different charitable relief organizations. "Our teams here on the east coast wanted to help too, they share in the pain their co-workers are feeling right now on the island" stated company President & COO Jason M. Lyon. "We chose the Mopsy as one of our selections as it was created in Paia when we first opened. "Mopsy", a local Hawaiian who lives with her husband Henry behind the restaurant befriended Jay during the building process. She offered to share her family's secret mango BBQ sauce recipe which was combined with roasted pulled Kahula pork, pineapple and organic red onion to create what has become a signature pizza at all our hearths" added Lyon. This is just the first round of fundraising that Flatbread Company will be holding as they plan another event later this fall. Gould summed the efforts up simply…. "This is who we are, what we do and how we do it. We feel it's not just the food we donate, its our way of saying we are thinking about you, we share your grief and are here to support you. I am grateful for our team members who make it happen every day".
There has been a great show of support by all the Flatbread Company communities with many asking if they can donate directly to organizations. If you are unable to dine and are looking to help, Flatbread Company Paia recommends the following relief efforts:
Founded in 1998 by Jay Gould, the first Flatbread Company opened in Amesbury, MA. Today the company has six other locations including Portland, ME; Portsmouth and North Conway, NH; Providence, RI; Paia-Maui, HI as well as Whistler, B.C. Flatbread Company's founding principles rely on quality and integrity of ingredients that allows them to serve clean food without unwanted chemicals while supporting organic and local farming. Additionally, the company is "mission based" with the desire to get involved in their communities through local non-profit and neighborhood partnerships. "Community Bakes: Pizza With Purpose" are featured at each location every Tuesday night to aid those organizations. For more information visit Flatbreadcompany.com.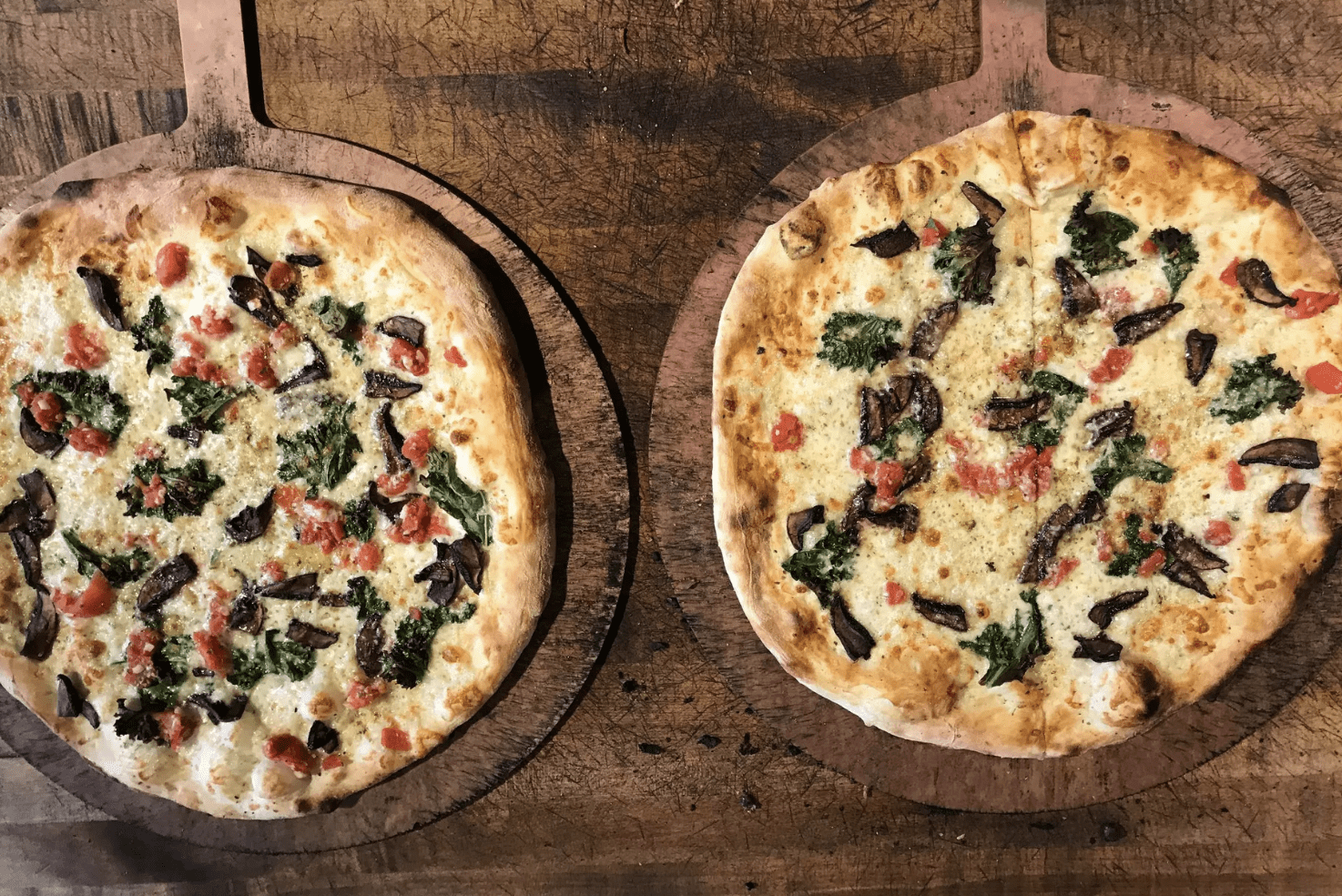 A New Hampshire-based pizzeria that boasts a menu of mostly organic and locally sourced fare is headed to Lowest Greenville for its first Texas location.
Flatbread Company operates a handful of locations from Connecticut to Maine, as well as in Canada and Hawaii. It will debut locally at 1720 Greenville Avenue from two brothers and a partner in the Hawaiian franchise. The building that will house Flatbread Co is owned by the brothers' family and will get a complete revamp before the eatery moves in, featuring two clay wood-fired ovens and seating for 150 diners with an outdoor patio.
A menu of wood-fired pizzas and salads are headed to Dallas with both meaty and vegan varieties alongside a handful of sauce-less pies. Diners will find pizzas made with organic wheat and veggies and hormone-free meats like uncured pepperoni, maple fennel sausage, pulled pork, or roasted free-range chicken.
The "Greenville Community Flatbread" is a special addition geared for the DFW dining crowd, featuring onions, mushrooms, whole milk mozzarella, and parmesan cheese with homemade garlic oil and blend of herbs on top. Salads include a base of organic greens topped with Maine sea kelp that can be customized with diners' choice of veggies, cheese, and meat. Ice cream sandwiches, sundaes, and floats will be on offer for dessert.
"We were blown away by the pizza each time we had it [in Maui], and my kids don't want to eat anything else when we visit," said David Leake, one of the brothers behind the local franchise. "[With the] all-natural, locally sourced fresh ingredients, we felt good about giving in to them each time they chanted for pizza."
Flatbread Company will make its local debut at the end of May or beginning of June. Stay tuned for its official opening date.
Article and Images via Dallas Eater