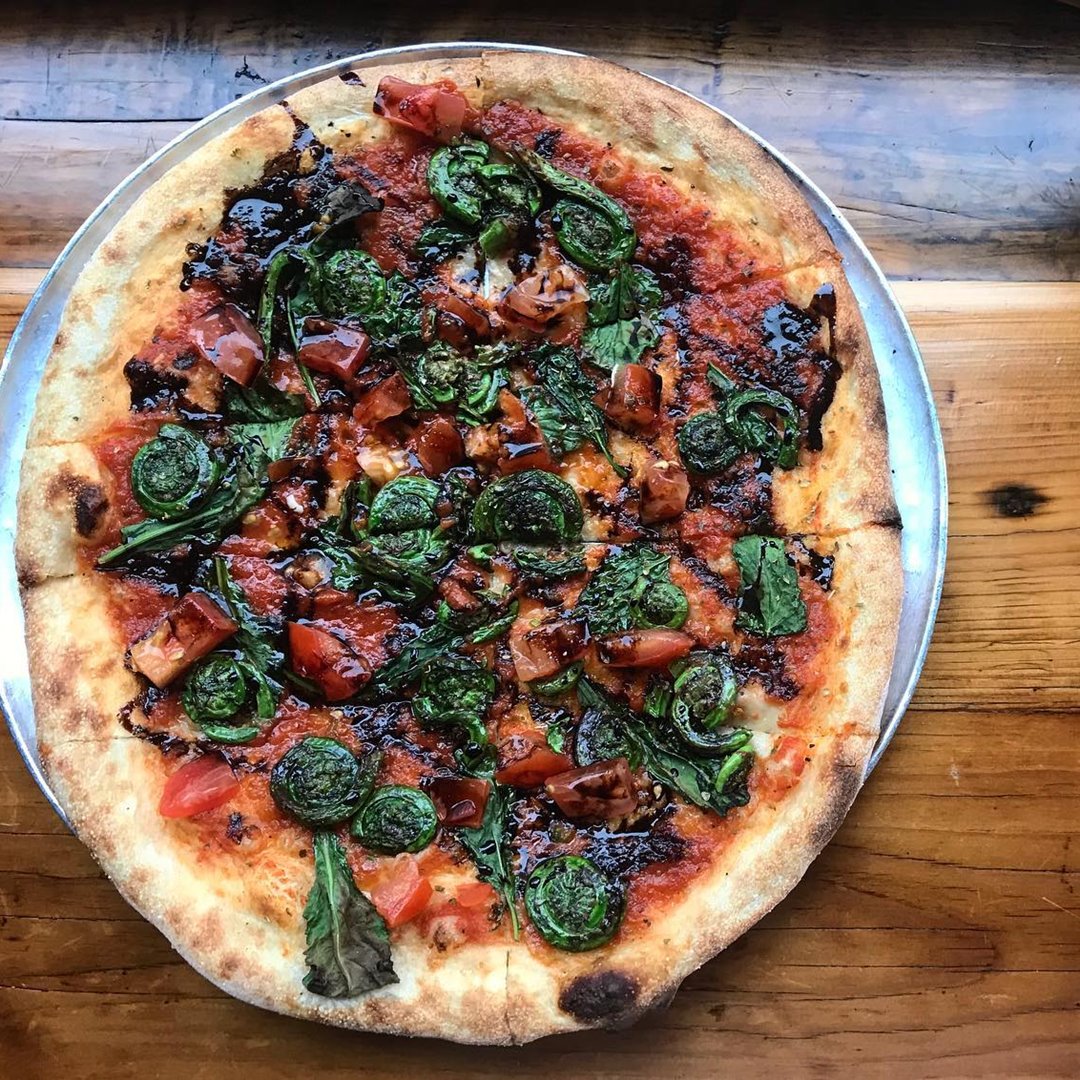 They opened their first doors just over twenty years ago, but the folks at Flatbread Company trace their roots to a much earlier time. They've sourced the origins of baking as inspiration for their primitive clay and stone ovens.
Each of their flatbreads is hand-prepared with natural, organic, and free-range ingredients, and wood-fired for what they say is incredible tasting pizza. And dairy-free customers seem to agree. Melissa K. emailed in to recommend this small restaurant chain:
The pizza is amazing! We love the thin, crispy crust. My go-to pizza is the Homemade Sausage. It has homemade maple fennel sausage, sun-dried tomatoes, caramelized onions, and mushrooms with garlic and herb oil instead of red sauce. My husband changes it up and always does the build-your-own. The ingredients are locally sourced and organic, which is always a plus in my eyes.
As Melissa has discovered, Flatbread Company is special diet friendly with several dairy-free options:
Flatbread Co. in Portsmouth, NH has dairy free pizza. They currently use Daiya but when I was there last week with my husband they were trialing another brand called Good Planet (which my husband said tastes way better than Daiya).
We contacted the Portsmouth location to find out more, and one of the managing partners, Kristie Edmunds, shared the following:
All of our crusts are dairy free. All of our sauces are dairy free EXCEPT for buffalo sauce, crema, blue cheese dressing and chocolate sauce. And all of our meats are dairy free, but our pepperoni has starter cultures [this can be dairy derived].
She warned us that each Flatbread Company sources some of their ingredients from local farms, so there can be variations in the menu items and special diet selections. And of course, you will need to discuss food preparation with the staff if potential cross-contamination is a concern. Each restaurant is managed individually, and might have their own allergen procedures. But in general, you can easily order dairy-free right off their menu.
Tips for Ordering Dairy-Free or Vegan at Flatbread Company
All (or almost all) locations have cheeseless vegan pizza on the menu with build-your-own vegan or dairy-free pizza options.
Select locations offer "vegan cheese" as an add on, but what type they source can vary by location.
Most of their restaurants have gluten-free pizza crust available, which is also vegan.
Their regular house dough and many of their toppings are organic and dairy-free.
They have a big, unique selection of plant-based toppings, that can include Kalamata olives, sulfate-free sun-dried tomatoes, roasted corn, caramelized onions, sweet potatoes, chickpeas, and more.
They also source local, free-range, and un-cured meats to avoid added growth hormones and other chemicals.
If you aren't in a pizza mood, you can order a build-your-own organic salad. You choose the toppings and it's doused in their house vinaigrette, which is reportedly dairy-free.
Some locations serve a set menu of desserts, but others source desserts locally and change them up. These are occasionally dairy-free, gluten-free, and/or vegan. Check with the staff!
Melissa also gave a shout out to the drinks at Flatbread Company:
Their cocktails are delish, try any of them! And they carry Downeast Cider which I'm a big fan of but don't often see at restaurants. They have a good selection of craft beers that my husband enjoys as well. For non-alcoholic drinks, I love the Maine blueberry soda and home-brewed root beer.
Where to Find Flatbread Company
They have quite a few locations in New England, including Maine, Massachusetts, Rhode Island, Connecticut, and New Hampshire. But they also have an outposts in a few popular vacation spots, like Maui and Whistler, BC. See their website below for addresses, hours, and the menu for each restaurant.
Article and Images from Go Dairy Free