The history of Flatbread goes back at least 5000 years when men and women first began "baking" in enclosed earthen mounds. The simple leap from an open fire to a more controlled heating process expanded the culinary possibilities for all mankind. We rolled into the picture in 1998, going back, in order to move forward. Since then, the Flatbread Company has been introducing people to the magic of earth and fire, and how that combination can produce incredible tasting pizza. Beginning in Amesbury, Massachusetts in the summer of 1998, our mission of providing both guests and team members a place to "renew their spirit", has never wavered. The story of Flatbread is a story of the people that work here and the guests that support it.
Real food, served by real people, in a real environment. Back in 1998, there were hardly any distributors of organic food and the locally produced food were in their infancy, just like us.
So the story of Flatbread is also intertwined with the local farms and local producers, like Cider Hill Farm in Amesbury, MA, Valley View Farm (goat cheese) in Topsfield, MA, George's Hemlock Hollow Farm (maple syrup) in Kensington, NH, Barbara's Brownies from Amesbury, MA (now Hampton, NH)…
Together they produced and we prepared, served, and most importantly, the local community supported us. This rather simple sounding partnership between Flatbread, organic food, local farms, local producers, and the local community, has been successfully transplanted to our other hearths.
Each time we build our ovens in new locations, it is our mission to become an integral part of the fabric of that community through our sustained actions. We thank you for your part in our partnership and our history.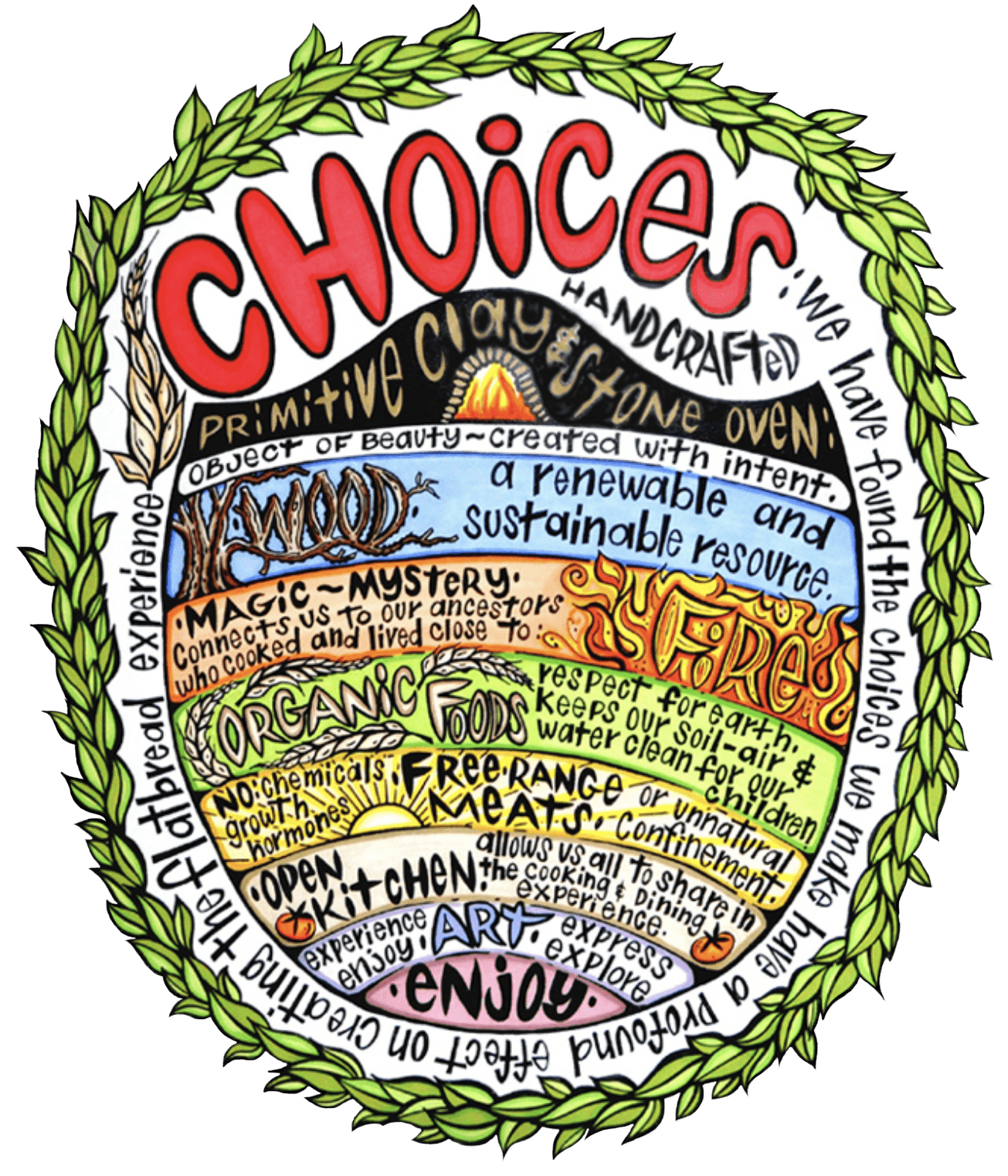 Flatbread Choices
We have found that the choices we make have a profound effect on creating the Flatbread experience. Good luck with your Choices.
FIRE
Magic, mystery, connects us with our ancestors who cooked and lived close to Fire.
WOOD
A renewable resource, sustainable, forever created by the sun and earth, natural.
ORGANIC FOOD
Respect for the earth, keep our soil, air and water clean for future children.
FREE RANGE MEATS
Respect for the animals, relations we share the earth, no growth hormones, chemical or unnatural confinement.
PRIMITIVE STONE & CLAY OVEN
Hand made of natural material, an object of beauty created with intentions.
ART & DECORATIONS
Beauty issues we all face together, wants, needs, and rights.
OPEN KITCHEN
Allows us to see you enjoying the food, and you to see who is making your food.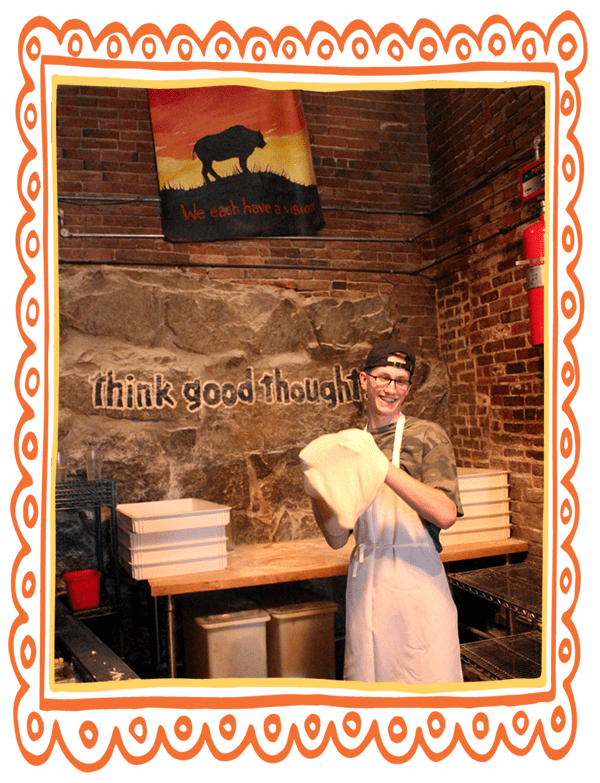 Our Purpose Guides Our Actions and Decisions
Quality and integrity. Food and drink. Clean food without unwanted chemicals or pesticides. Support organic farming (local if possible). Support the local community farms… Create a restaurant where children, adults, and team members may renew their spirit. Create a restaurant that educates people about the connection between food and nature. Create a restaurant that connects us to nature. Create a restaurant that is authentic, truthful, and. real. Create a company where advancement is based on performance not politics. Give back to the community through benefit nights with local non-profits. In addition to financial reward, work should be rewarding emotionally… Jay