Portsmouth, New Hampshire… When Montgomery Ward moved their catalog showroom to the malls in Newington in 1973, the Portsmouth Beauty School took over and sealed up the floor with carpet and the tin ceiling with drop ceiling. Years later, the Nardello Family brought Flatbread in and moved upstairs. We uncovered and restored the tin ceilings, wooden floors, and some of our seasoned citizens can still describe where the counter was where they ordered their first electric appliances. Flatbread only cooks with fire and we thank the Portsmouth community for their unwavering support of what we do.
Keep Each Other Well, Jay
Hours
Monday

4:00PM - 9:00PM

Tuesday

4:00PM - 9:00PM

Wednesday

4:00PM - 9:00PM

Thursday

4:00PM - 9:00PM

Friday

4:00PM - 9:00PM

Saturday

11:30AM - 9:00PM

Sunday

11:30AM - 9:00PM
Join us daily for take-out or our dining room! We serve take-out starting at 3:00 Monday through Friday. Please call ahead for a reservation or use YelpWait to add your name to our waitlist as we are not allowed by the State of NH to let you wait in the building.
Contact Flatbread Company Portsmouth
Get it
Half-Baked!

Order your #WoodFiredLove "Half-Baked" by us; finish it in your oven for hot, crispy flatbread anytime! Select this option under cooking instructions when ordering.
Part of our mission at Flatbread is to support local organizations that have an impact on our community. The primary way that we accomplish this is through the benefit nights that are held on Tuesdays at each of our restaurants.
Click to learn more and download our benefit application.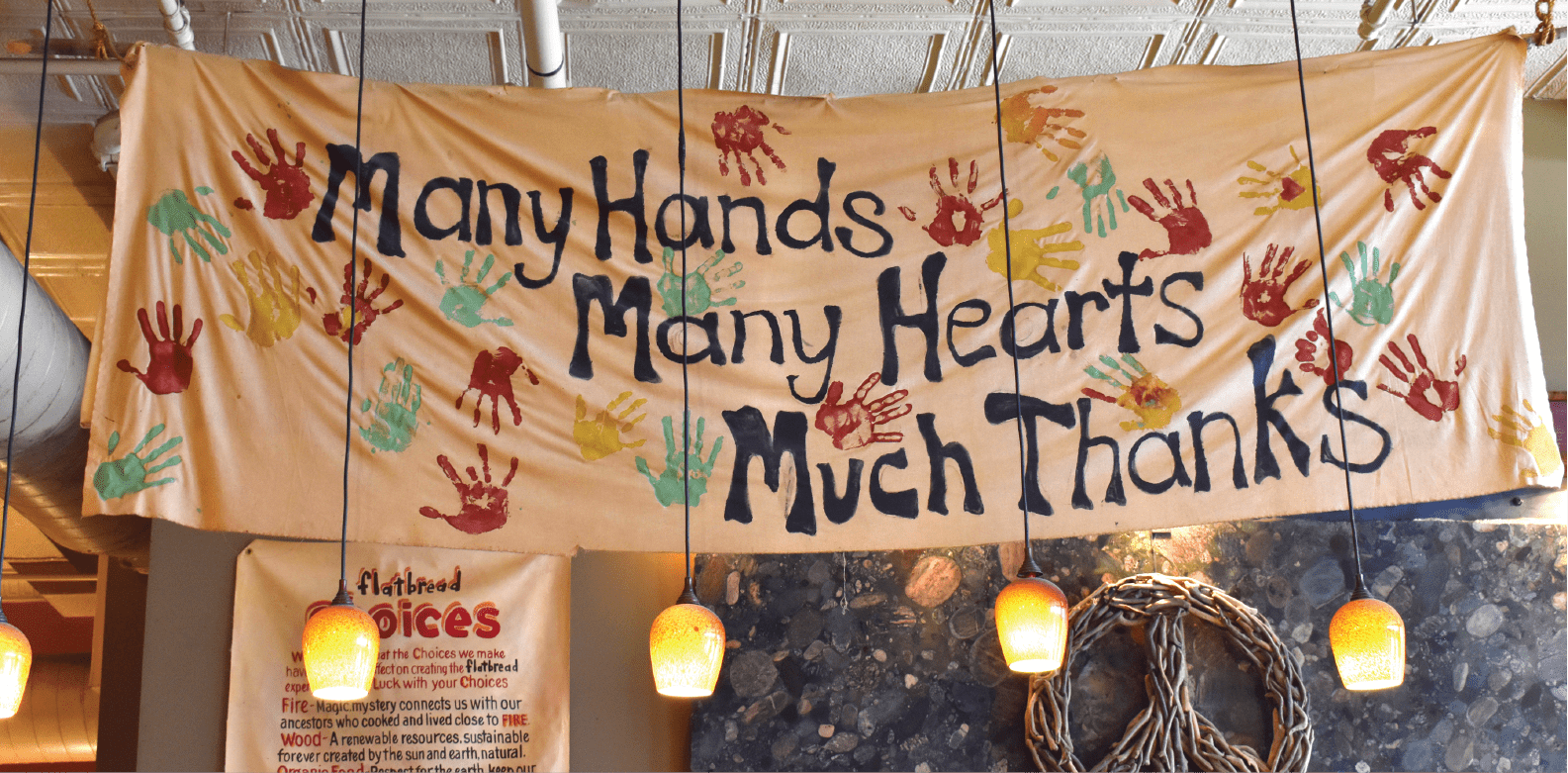 Join The Portsmouth Flatbread Team
Flatbread Company is always accepting employment inquiries from enthusiastic and passionate people to share in our philosophies of serving real food, supporting local farms, as well as giving back to the community. If you are ready to renew your spirit while helping us to do a little something to save the planet at the same time, then apply today!