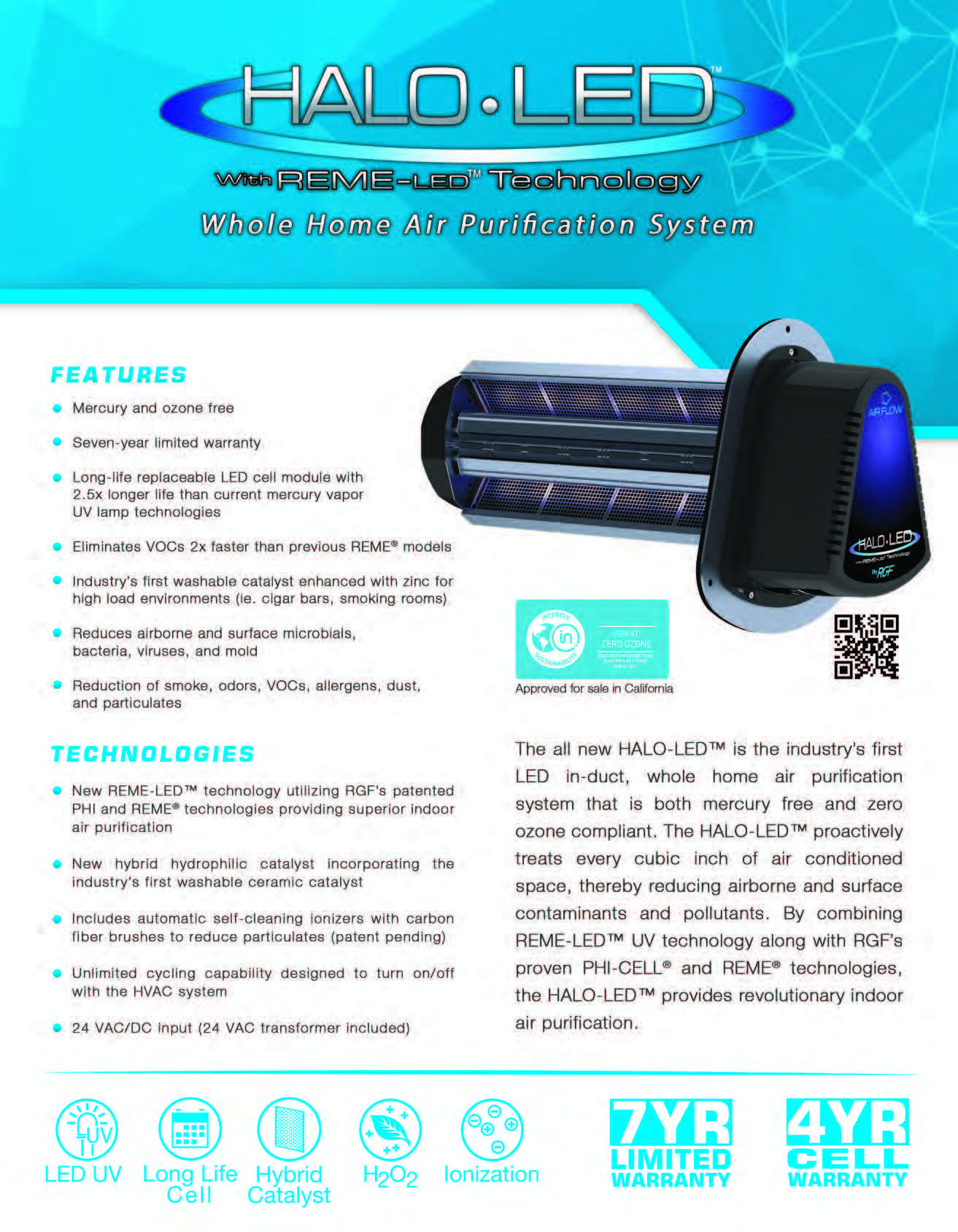 Hampton, NH – Flatbread Company, founded in Amesbury, MA in 1998 with hearths throughout New England, Hawaii and British Columbia, has spent the past several months retrofitting their company owned New England and Whistler, BC locations' HVAC systems with HALO-LED REME-LED Technology Whole Air Purification Systems. The HALO-LED is the industry's first LED in-duct, whole air purification system for home as well as commercial use that is both mercury free and zero ozone compliant. Unlike other systems, the HALO-LED proactively treats every cubic inch of the cycled air space, thereby reducing airborne and surface contaminants and pollutants.
"With the primary source of cooking being our hand-built clay wood-fired ovens, we had actually started to research this technology prior to Covid-19 to eliminate the smoke that could sometimes be in the dining room air.." Flatbread Company founder, Jay Gould pointed out. "Due to the impact of the current pandemic, we ramped up the urgency of our plans so that we would have a system installed prior to the arrival of late fall." he added. The Halo-LED advantage is that most UVC lamps are passive systems that require pollutants to pass under the light in order to serve its function. The REME HALO-LED differs due to combining the UV germicidal lamp functionality with an electrostatic system that sends out ionized oxidizers into the room to target pollutants at their source. The UV light technology coupled with self-cleaning ionizers, work in combination to reduce airborne and surface microbial, bacteria, viruses, mold, odors, allergens, dust and more indoor air pollutants. Gould further remarked that "An additional benefit to the HALO-LED system is its effectiveness in producing the desired oxidizing effects and particle neutralization while being zero ozone compliant so we are able to stay aligned with our "green" philosophies."
Director of Facility Services, Anthony Grenon, spearheaded researching the many different available systems on the market utilizing his expertise as a DOD sub-contractor to identify the best fit for Flatbread Company keeping in mind both the company's mantra of "Keep Each Other Well" in addition to its environment efforts. Grenon pointed out that "one of the points of differentiation of the HALO-LED system developed by RGF Environmental Group was the results of a study that commenced in March 2020 which showed an efficacy of 99.9% against the SARS-CoV-2 virus, commonly known as coronavirus 2019 or Covid-19" The independent third-party study focused on the inactivation of SARS-CoV-2 using RGF's proprietary REME HALO product with PHI-CELL technology. The testing, performed by Bioanalysis Laboratories in Cypress, CA looked at neutralizing the virus within the occupied space in the air and on surfaces. "While we are confident in the technology we have installed, it's important to also remember that the study was conducted in a controlled environment and is not in any way a medical claim" Grenon also mentioned.
"We have always committed to strictly adhering to CDC and State guidelines. However, with the colder months setting in, we were worried about our ability to keep our team members and guests as safe as possible.." stated Regional Manager Kristie Edmunds adding "..proactive measures such as these allow us to provide a healthier work environment and give our guests increased comfort and peace of mind while they are  dining. We want them to know we are going above and beyond to keep them as safe as possible."  Flatbread Company started announcing the implementation of the new system through social media over the past several weeks which has been received with extremely positive feedback.