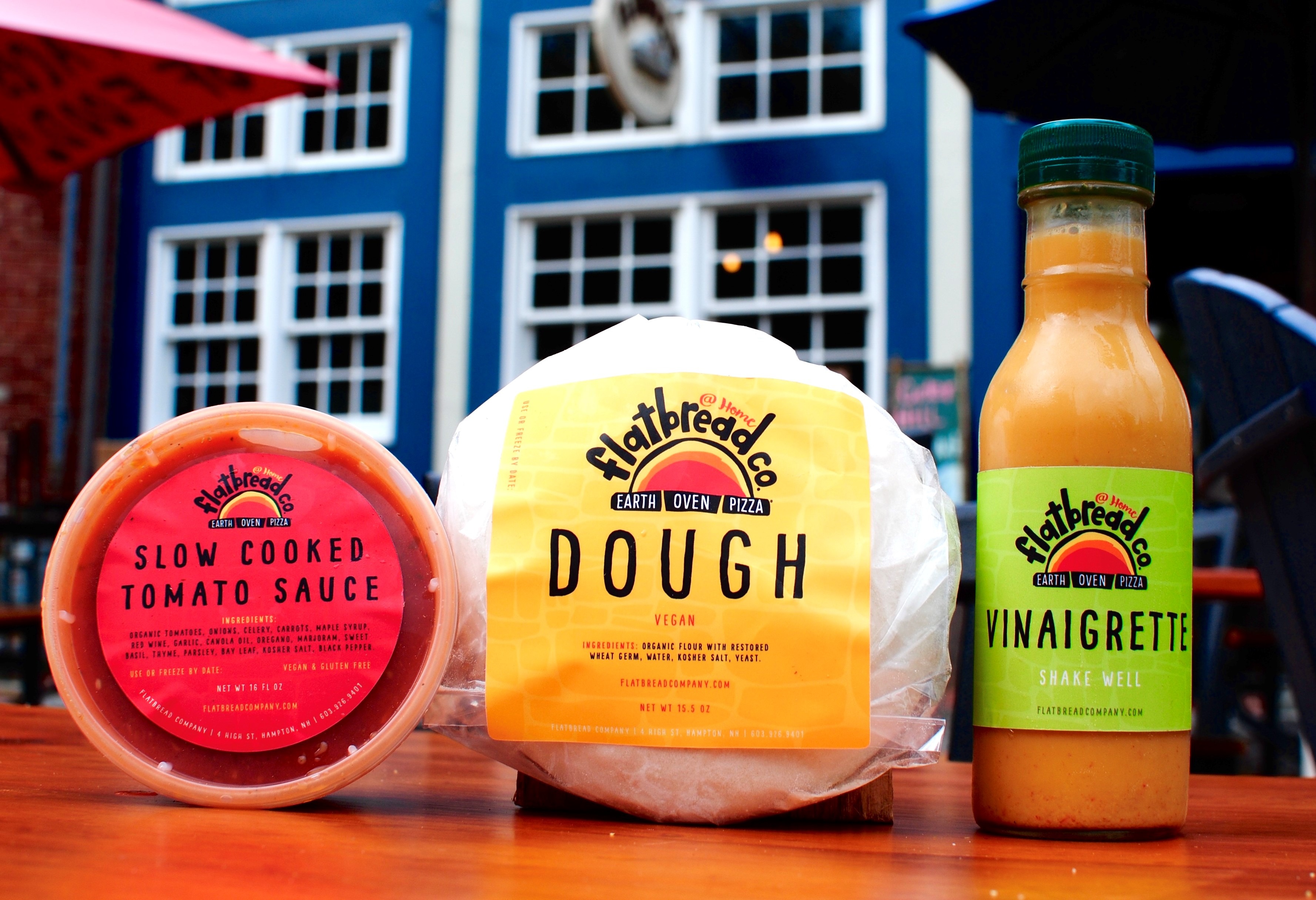 It is with tremendous excitement that we announce the introduction of our latest project here at Flatbread Company: our new Flatbread Company @Home line of all-natural, mostly organic, proprietary food products for use by you, at home! We now proudly offer for sale our signature Flatbread Company house salad dressing, slow cooked pizza sauce as well as pizza dough which are currently available at all of our company-owned locations. "Over the years we have always informally offered these three items for purchase upon request but the current Covid-19 pandemic gave us the opportunity to reflect upon what else we could be doing during this time of modified daily operations" stated founder and CEO, Jay Gould. Flatbread Company @ Home items are created with the exact same all-natural, mostly organic sourced ingredients that the company uses in their recipes at each hearth from New England to Hawaii and British Columbia.
"From the time I was a busgirl in Amesbury to when I was the general manager, we would have guests rave about the one salad dressing we offer with many asking if they could purchase it to take home…" noted Regional Manager Lauren Grindrod. "We use organic berries and vinegar as the base before adding maple syrup and various herbs and spices; it really is a unique dressing…I remember packaging it up in different to-go containers depending on what we had on hand" she added while reminiscing about her first decade with the company. For over 20 years, Flatbread Company has also used the same approach with their slowed cooked tomato sauce which is the base for most of their pizza offerings. Organic tomatoes and onions serve as the starting point before adding a variety of other organic or all-natural vegetables, herbs and spices. While the sauce is offered fresh by the quart, it freezes very well so it makes a great staple to have on hand to use on a home-made pizza or even over pasta.
With take-out and delivery services making it more convenient to have pizza at home, the company has been surprised to find a higher demand for its fresh made organic dough as the Corona Virus pandemic lingers. "Having the kids home instead of in school, there were days that I was struggling to keep them busy. Then it dawned on me – why not make our meal and specifically pizza together?" Amesbury General Manager Shannon Hamilton shared. "As opposed to bringing a pizza home I brought the ingredients. While showing my kids how we make the pizzas in the restaurants, I got to talk to them about the integrity and source of the ingredients as well. It was not only interactive family fun but an educational opportunity at the same time."
You can order the most mind-blowing pizza imaginable on-line for pick-up or delivery by visiting Flatbreadcompany.com or stock up on their Flatbread Company @Home products at any of the company-owned hearths today!